Design policy of the program
The program focuses on strengthening students' understanding of Japanese management and Japanese companies, while equipping them with the basic knowledge and global expertise of a regular MBA program. You gain practical experience in real business environments, including internship experience in regional government organizations and private companies. Classes are offered on weeknights and Saturdays, allowing you to work during the day while attending the course.

Degree requirements
As 2019 marks the fifth year of this program, we are undertaking a strengthening of the GMBA curriculum. We are enhancing the compatibility of the GMBA program with the existing Japanese MBA program by equalizing course credits, and increasing the credits required for graduation by 10 to a total of 48 credits.
Total of 48 credits
12 credits in practical studies + 36 credits in lecture courses
Practical studies: 6 credits per year for internship (or field research in special cases)

Japanese courses are also available
Up to 10 credits from one-year program, two-year program (except a part of courses) can be recognized as credits of specialized courses and included in the number of credits required for program completion, if you have the N2 level of the Japanese-Language Proficiency Test (JLPT) or equivalent.

Courses outline
Foundation Courses
Global Management
Business Communication in Japanese Organization
Management Strategy
Strategic Organizational Management
Business Practice in Japan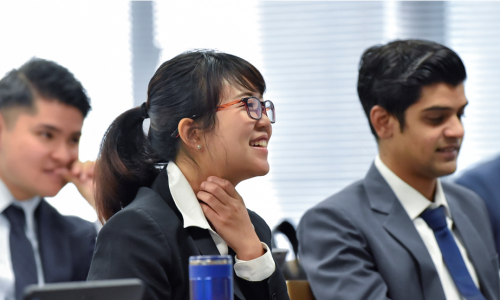 Specialized Courses
Accounting
Logical Thinking vs Intuition
Financial Management
Global Economic Issues and Innovative Solutions
Human Resource Management in Japan
Managing Talent
Opportunity and Entrepreneurship in Japan
Media and Entertainment
Marketing in Japan
Service Management in Japan
Innovation in Global Business
Innovators and Leaders
Applied Marketing
MBA Special Lecture
Applied Courses
Project 1-A (1st year Internship) Project 2-A (2nd year Internship)
Japanese Management
Japanese Production Management & Supply Chain Management
Open Innovation
Business Leader Development
Entrepreneurship and New Business Creation