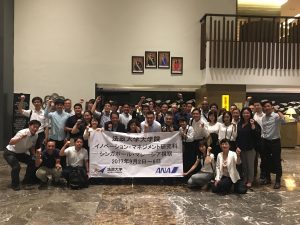 Hosei University Business School Students Tour Singapore and Malaysia
By Teckshawer Tom
Hosei University Master of Business Administration (MBA) degree students recently visited Singapore and Malaysia through a multinational business in Asia study tour organized under the auspices of Hosei University Business School Of Innovation Management in collaboration with All Nippon Airways (ANA).
The delegation comprising students from Japanese MBA and Global MBA programs was led by Dr Asako Takada who is a Hosei University organizational behavior professor.
The study tour gave students a rare opportunity to get a glimpse of practicality of what they learn in theory through management concepts in the MBA program at Hosei University Business of Innovation Management.
Students visited five Japanese companies in Malaysia namely Sharp Manufacturing Corporation, Adeka, Pamol Plantation & Mill, Chugoku Marine Paints and Eson Malaysia.
Dr Takada who is an expert in organizational behavior said the purpose of the study tour was primarily to give Japanese and international students an opportunity to learn from each other by eliminating social barriers created by cultural diversity.
" Hosei Business School of Innovation Management recognizes the diversity of its students and always seizes any opportunity to integrate and espouse students' values irrespective of their backgrounds," Dr Takada said.
She also said the study tour was designed to prepare MBA students to foster and value diversity as the quality of being different and unique, and for students to emerge with a capability in decision making from a global standpoint.
" Both Japanese and international students were divided into groups and given tasks tailor-made to prepare them on how to manage diversity and be able to create and sustain a working environment where every individual can fully achieve and realize their potential irrespective of their social background," Dr Takada added.
She also said upon completion of their MBA program some students will most probably assume managerial or leadership roles, and as such, it is within Hosei University Business School of Innovation Management's mandate and obligation to prepare them to be future leaders.
" Students ought to be prepared for complex thinking to deal with complex situations in organizational culture and challenges posed by today's business world complicated by globalization and other ever-changing dynamics," she said.
" I believe this study tour achieved its objectives for students to understand fundamentals of workplace diversity and for students to treat each other with respect, tolerance and dignity despite their diverse backgrounds through group work we assigned them to do," Dr Takada added.
A GMBA student from Taiwan Cheng Yi-Chieh commended Hosei University Business School of Innovation Management for organizing such a study tour because it broadened her horizons about business culture in developing countries like Malaysia.
" The multinational business in Asia study tour was very good because it helped me to understand business dynamics at variance in developed and non-developed countries," Yi-Chieh said.
Another GMBA student from Vietnam Tran Hung Phong said the study tour provided a platform for him to mingle with Japanese managers in Malaysia and understand how they interpret and perceive multicultural business.
" I was able to get a rare chance to talk one-on-one with Japanese company executives at a business dinner organized by Hosei University at a hotel in Malaysia. I'm very happy because I was able to market myself to potential employers," Hung Phong said.
Japanese MBA student Minako Shigematsu said she was really impressed by visiting a variety of companies in Malaysia.
" The study tour is very good because it exposes students to multinational business culture. I really liked the concept of blending Japanese and international students through group work. This is vital because people tend to interpret issues differently, and as a result, we can understand issues from various dimensions," Shigematsu said.
Dr Takada also expressed her gratitude to All Nippon Airways (ANA) for their role in organizing flights, hotel accommodation and bus tours in Singapore and Malaysia for the trip to be a success.
Hosei University Global MBA is a relatively new program which incorporates two distinct approaches encompassing classroom learning and practical training.
Students who took part in the study tour are from Brazil, Japan, China, Cameroon, Hong Kong, South Africa, Thailand, Myanmar, South Korea, Vietnam, Taiwan and Zimbabwe.
Students, through groups, will make presentations later this year of their study tour findings.