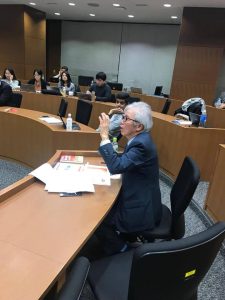 Yoshinoya Holdings Chairman Shares Business Management Knowledge with Hosei
University MBA students
                       By Teckshawer Tom
Students at Hosei University Business School of Innovation Management were challenged to
take business risks in order to create the future by the chairman of Japan's second largest chain
of Gyudon ( beef bowl) restaurants.
Addressing MBA students taking a class in Innovation In Global Business at Ichigaya campus
last month, Shuji Abe who is the chairman of Yoshinoya Holdings, encouraged students to take
risks in business because risk taking is a vital component for any business success story.
" In order to create the future in business you have to simultaneously take risks. You however
need to hedge the risk through prudent managerial capabilities. Competent management entails
creating the future, and in that process taking risks is necessary.
" Business strategy is not just a plan of action designed to achieve an overall business objective,
but a good strategy should also include decisions of what not to do," Abe said.
" For example we all know that brands don't always last long in business, as such, as a leader
you have to keep creating new markets or new brands. But in order to create a new market you
also need to create new motivation," Abe added.
Abe, popularly known as Mr Gyudon, in apparent reference to Yoshinoya trademark dish of
bowl of rice topped with beef and onion, also alluded to some of the challenges the fast food
company went through when he was still president.
" It is inevitable in any business not to encounter challenges, but as a manager, you have to
remain focused, grow and learn from the challenges," Abe said.
This was in response to a question by Seiichi Yamamoto an MBA student who asked Abe to
shed light on the challenges Yoshinoya Holdings went through when the company filed for
bankruptcy in 1980, and the ban on beef imports by Japan from the United States in 2004.
" It was an opportunity for us to learn and grow through the hardships. We were too busy to be
pessimistic instead we were preoccupied with finding a solution. Though tough, it was a good
learning experience for us," Abe said.
Mr Gyudon successfully guided the company to navigate through the crises. His excellent
leadership has led Yoshinoya Holdings to spread its branch network in countries like the United
States, Hong Kong, Cambodia, China, Indonesia, Malaysia, Philippines, Singapore, Taiwan and
Thailand among others. Yoshinoya Holdings is also doing a feasibility study in Russia as the
company contemplates on penetrating the European market.
A Global MBA student from Hong Kong Liu Chiang Sheng asked about the possibility of
Yoshinoya using robots in some of its restaurants in future. Abe said it is imperative for
companies to be innovative.
" Companies need innovative ideas to improve productivity and eliminate bottlenecks. Artificial
Intelligence (AI) has proven to be essential in addressing productivity issues. As such, robots can
be considered as an option to improve productivity. Improved productivity does not only
increase profits but also improves the lives of employees, stakeholders and communities." Abe
said.
Abe was invited to Hosei University by Dr Seiichiro Yonekura a renowned professor in
innovation research. His class Innovation in Global Business seeks to equip students with
theoretical framework on innovation, the historical development of global business, and for
students to be able to create their own business ideas.
Students also enjoyed the opportunity to directly discuss business issues with representatives
from companies such as AeroSense a joint venture between SONY and ZMP Inc. that provides
industrial automation solutions by combining autonomous UAVs with cloud data analysis
services.
Chizu Nakamoto who is a social entrepreneur running hugely successful RICCI EVERYDAY, a
Uganda-based company providing employment for local poor single mothers through making
and selling African bags, also shared her business ideas with MBA students.